High Precision Swiss CNC Machining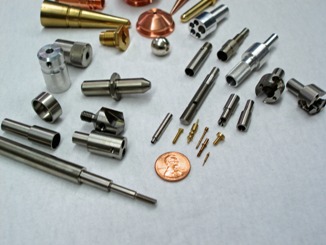 Swiss Machining Services are traditionally thought of for high precision production only volumes out team saw a void in the marketplace for short run volumes. We can produce complex parts in one complete action making secondary applications sometimes unnecessary. We currently manufacture swiss screw machine and screw machine products measuring up to 1.25" in diameter. Holding tolerances of +/- .0001". Our multi axis swiss CNC centers can run up to 17 tools in a single setup. Project profiles range from single prototypes to production runs of small, medium or large size parts. Our clients are from across the manufacturing spectrum including medical, electronic, consumer, defense and business components. The goal of our team is to provide you with innovative options at competitive prices on a timely schedule.
Materials
Cold Rolled Steels:  12L14 , C1215 , 1018, 12L15
Stainless Steel: 303, 304, 316, 416, 440, 465, 17-4 PH 
Aluminum: 6061 T6 , 2011 T4, 2024 
Brass and Copper:  360 Brass, Trillium Copper, 110 Copper, Beryllium Copper
Secondary Services
Centerless Grinding
Cleaning
Deburring
Plating
Full inspection options
Need more information about our Swiss CNC Tooling?
Please contact us at (561) 752-9095. Our highly skilled team of engineers and design technicians are ready to take on your most demanding Swiss CNC Tooling projects from our prototyping services menu.